These cheeserings and cheesecakes will have friends and family saying Thank You for a great TASTY gift!
About Ginny O's: Our family recipe dates back to the 1850's, having been handed down from Ginny's great-grandmother, who built and resided at Historic Oak View in Raleigh, North Carolina.

Oak View is where we get the "O" from in Ginny O's. Ginny O's Cheese Rings are homemade and hand-bakedfresh to your order; our wholesome ingredients include flour, cheddar cheese,margarine and spices.

THE BIRTHPLACE OF GINNY O'S: THE OAKVIEW ESTATE: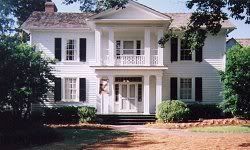 This antebellum farmstead features an 1855 Greek Revival house, detached plank kitchen, cotton gin museum, an herb garden, picnic facilities, a barn and a new 3000 square ft. museum called the Farm History Center. On the 17 acre grounds remains the oldest pecan grove in the state.
Featured:
~The Food Network: Road Tasted with the Neely's~An Oprah Favorite (see clip from O magazine)~Disney World~The First Lady's Luncheons~Served on Air Force One~North Carolina Inaugural Ball~Governor's Ball of NC~Served at the Governor's Mansion in Raleigh, NC~Harris Teeter stores~Gift Shop Magazine~in many gourmet stores around the U.S.~
"I hope that you will enjoy every last one of my delicious cheese rings. They make a great gift for all occasions throughout the year, and are especially good for cocktail parties, ballgames and as corporate gifts. I find that children of all ages love them as well!" - Ginny O
We now have cheesecakes at $25 each for retailers/wholesale clients (overnight shipping is required and not included)

Call for Shipping Price which will is based on order and location.
Sample Kit of our cheese rings includes: (2) 3 oz. boxes and shipping for only $15.00
For Questions or Orders Call 919-782-5302
Phone Hours: M-F 8:30AM-8:30PM, Sat. 9:00AM-5:00PM (Mastercard and VISA accepted)

Ginny O's Cheese Rings, Inc.
P. O. Box 6475
Raleigh, North Carolina 27608
Phone: 919-782-5302
Fax: 919-787-1074